Recalling Stillwater's Friday the 13th Tornado
---

Listen to a 10 min. audio account of actual radio news reports and commentary on this tornado here.
---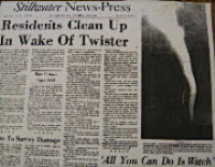 Back on June 13th, 1975 a funnel cloud coming from out of a very dark northwest sky struck Stillwater. Its path started at the northwest edge of town near the corner of W. Lakeview and N. Western Rd. From there it moved southeast to 14th and S. Perkins Rd. and onward to a rural area outside town. In its path through the middle of the city, it touched down at least three times, causing damage to the Oklahoma State University campus, downtown Stillwater and a residential neighborhood to the southeast. Once further southeast in a rural area on E. 32nd, the funnel cloud dipped down low again and wrecked the Green Valley Mobile Home Park, destroying at least 20 homes. Fortunately, park residents were warned and left in time for shelter at the city sewer plant nearby. Upon return, one resident became concerned over not finding the frame to his trailer, fearing it could mean a long drawn out process over making an insurance claim. At least several other homes, along with a stone barn, in that area were damaged or destroyed. The photo of the tornado, above, was snapped only minutes after it struck Green Valley. It soon turned into a rope formation and dissipated. Reports of multiple tornadoes involved were believed to be erroneous. During the weekend, E. 32nd had to be closed, due to too many sightseers.

On the OSU campus around 30 buildings were damaged with worst of it confined mostly to the east side. Among them, the OSU fire station had its cupola blown off. It landed upside down and partially through the station's roof, an unforgettable sight. Old Central, built in 1894, had the upper portion of one wall blown out. Some of the other damaged buildings were Business Hall, Morrill Hall, Hanner Hall, Gunderson Hall and Civil Engineering Lab. All together, at least a $1,000,000 worth of damage was done to the campus.

Near OSU, Saint Andrew's Episcopal Church had damage to the sanctuary. Heavy rain coming in ruined the organ. Downtown Stillwater stores had much awning, plate glass and roof damage. Police watching downtown prevented looting.

Much of southeast Stillwater was a mess of downed trees limbs, blown off front porches, power lines on the ground and sometimes worse. Several homes were heavily damaged by falling trees. Damage was worst near the corner of 14th and S. Perkins Rd. where two homes were unroofed. Damage to Stillwater's electrical system was significant. About a half mile of power poles fell along Western St. between Sunset and McElroy.

Probably no one knew how high the wind blew. The wind gauge at the official weather station blew off the roof at 75 mph. The tornado was rated F3. Nine people were treated for injuries at the Stillwater hospital, none serious.
Sequence of Events on June 13th, 1975:
5:40PM - Civil defense observers sent out due to severe storm approaching the city.
6:17PM - National Weather Service in Oklahoma City reports tornado on radar six miles northwest of town.
6:25PM - Sirens sounded.
6:34PM - Power goes off on west side.
6:40PM - Power goes off downtown and at KSPI radio station. Sirens sounded again.
7:00PM - Radar indicates 2nd tornado. Sirens sound third time. Only heavy rain and small hail result.
7:30PM - Assistance from National Guard requested. 44 called out.
Residents Recall The Tornado's Impact
"It sounded like everything in the world was breaking," a resident near 14th and S. Perkins Rd., in reference to tornado while sheltered in her closet.

"I've lived here 50 years and I've never seen this. I hope I never see it again," a resident who lived near the mobile home park destroyed.

"After it was all clear we drove to the 32nd street trailer park and all the mobile homes were destroyed(gone), except for the sheet metal and frames wrapped around the trees, bark stripped from trees and clothes scattered everywhere! Larry

"We were coming into town at this time from Ripley. Stopped at the Latigo. It was like a movie. We ran in and no one was there. All the food on the table, some steaming. A waiter ran in and ushered us to the basement where everyone was. I was 6 at the time but will never forget it." Julie

"I remember it well. I drove into town not knowing it was coming and wondered where everyone was, there was so little traffic. Surprise!" Liewellyn

"I was stuck in my car downtown while it passed over. I'm surprised it didn't pick that big Mercury up. That big Mercury was a-rockin', though." Sam
| | |
| --- | --- |
| Downtown at 8th and Main | College Fire Station |
---
The Harrowing Drive Through the Tornado
I once rode out a tornado while in a car. It was probably the most frightening experience of my life. It was the Friday the 13th Stillwater, Oklahoma tornado from June of 1975. I was at home with my parents and a visiting nephew. Severe weather was forecasted that day. The time was around 6PM. I went outside to see if a storm was gathering. Was it ever. From SW to NE the sky was a very dark, ominous looking mess, all too typical and scary looking of a bad storm's approach. I went inside to hear what TV 9's weatherman, Gary England, from Oklahoma City thought about the storm. He believed radar indicated a tornado. Very soon, sirens in Stillwater started sounding.

My father, nephew and myself watched toward the northwest for signs of a tornado coming. (This was unusual for it to be coming out of the NW, rather than SW.) We soon spotted something in the distance. Not a funnel, but rather a piece of debris floating high in the air. Like idiots, we all panicked and fled in the car, headed for shelter downtown in the Stillwater city hall basement. It was not quite a mile's drive away.

We were doing okay on the drive until just a block from city hall when hell started breaking loose. Suddenly, the wind erupted into a very loud roar. It made a loud pounding noise upon the car. With the roar going on, I looked outside and spotted pieces of roofing peeling off a large building - then Mac's Body Shop, now the Post Office - and going straight up in the air as if being sucked off by a giant vacuum high in the sky. But that awful view was instantly interrupted by the startling sound of a very loud blast. My nephew and I instinctively ducked down in the back seat faster than my mother could shout "get down!".

While down, I sensed that the car was strangely wobbling, like some of the four wheels were not staying on the ground. But thankfully, the roaring wind stopped. I sensed the car had stopped, too. I raised up and found we were parked just outside city hall. We all rushed into its basement. There, I came across my neighbor lady. She was in a lot of distress, biting her fingernails, furiously going back and forth on them. As it turned out, she and her husband were actually foolish enough to follow us in their car in our mad dash. They said they had to dodge falling trees on the way.

The loud blast I heard was caused by the window on the driver's side of the car blowing out. While keeping control of the car, my father saw the wind flip a pickup truck upside down. The side of our car that faced the tornadic winds looked like it had been sandblasted.

We drove back home, relieved to discover no damage to our home, aside from some shingles blown off. The only heartbreaking damage was to an elm tree in the front yard I used to play on as a kid. All major limbs on the tree were blown down. Later the tree died and was removed.

My family and I lucked out more than anything else with the Friday the 13th tornado. My mother, though, later had to go to an eye doctor to have something removed from her eye. Thankfully, her vision was not harmed.

These days when there's a serious threat of a tornado, I have the good sense now to stay home and take cover in my safe room of reinforced concrete blocks.
---
-Who's Protecting Stillwater Today When It's Stormy? See The Unknown Lifesaver Video. (Includes Glimpses of Friday the 13th Tornado Photos.)
-Stillwater's 1990 Tornado Recalled Here.
---