Stillwater 1990 Tornado Recalled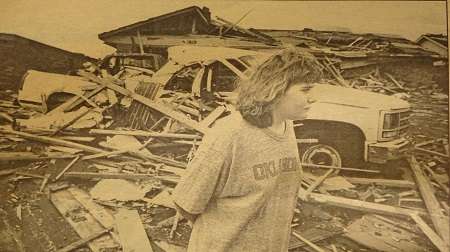 Since the mid 1970s, two tornadoes have touched down within Stillwater causing considerable damage. The worse one occurred on May 15th, 1990. Sirens began blaring at about 7:35 pm that Tuesday night shortly after spotters confirmed the tornado four miles west of Stillwater. Upon entering town, the F3 twister cut through a path from the north side of OSU to the north and northeast parts of town. As it crossed N. Perkins Rd., tall power poles toppled. Lights darkened, signaling to those not yet taken cover that only seconds were left to do so.

Many people said the storm evolved quickly and in moments houses were stripped of rooftops or collapsed completely. Vehicles and at least one boat were thrust into homes. Large trees were snapped from trunks or uprooted. Wooden planks from shredded rafters were driven 2 and 3 feet deep into some yards.

Jan Van Pelt, while standing in her roofless home, said her husband saw the funnel cloud on the horizon. He ordered the family into a bathroom. It was one of the few rooms left standing. "It came through those backyards and touched down on top of our house", she said. "It's hard to believe. I don't think the full impact has hit me. I haven't sat down and cried yet." Next door to Van Pelt's home, Trey McCauley picked through the wreckage of his residence. McCauley, a student at OSU, said he had heard the sirens and fled to a campus shelter. When he returned, he couldn't believe what he found. "I heard it was bad. I didn't know it was this bad," he said. Freeman Dilbeck said, "I heard it roar and I mean roar. I'm glad they weren't home", referring to his daughter and son-in-law's house. Ironically, it escaped massive damage nearby homes did not.

Mike Field stood in his yard and looked at the wreckage from a school roof that littered the inside and outside of his heavily damaged house. He and his family had made it to shelter. He said, "When we were driving back, I saw a lot of trees down and thought that maybe the trees here in my front yard would be damaged. We turned the corner, the first thing I saw was the roof gone. My wife started crying. What are you going to do?"

At Carmike Cinema, the movies came to a halt for 75 viewers. They headed for shelter in the theater's hallway as requested by management. Lobby windows shattered. A large air conditioning unit was blown off the roof. It was more than a week before the theater could reopen. Elsewhere, several hundred parents and students were at OSU's Seretean Center for school band concerts. When the warning was issued, audience and band members were taken to the basement. Ironically, band members were carrying flashlights for one of the numbers, "Voodoo", so the large group still had lights for the power outage. In the parking lot, many people lost car windows. Following the tornado, residents found, aside from flashlights and car headlights, they were in total darkness. Many homeowners vowed to rebuild.

During the height of the storm, Brenda Bradley was driving her pickup to a friend's home. She wanted to get there for safer shelter than her mobile home. Her 4 year old son, Taylor, was with her. They had just reached the driveway of the friend's home on Briarwood St. when the tornado hit. She got out of the truck with cuts and a wrist injury that required surgery. But winds drove large debris from a roof a block away into the passenger side where Taylor was sitting. He died from internal injuries. His death was the only death in Oklahoma blamed on a tornado in 1990. The photo above shows the tragic scene with their friend, Melissa Warmack, in sad reflection.

In the aftermath, a state of emergency was declared. Access to the one square mile area of most devastation, bounded by N. Perkins Rd., McElroy, Lakeview and Jardot Streets, was blocked off at six points. Residents living there had to go to city hall to get special orange passes to be allowed in. More than 2300 were issued.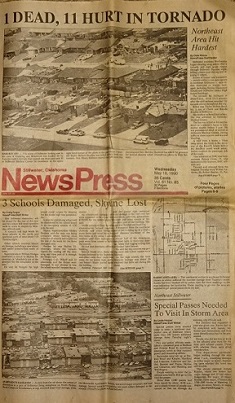 While looting was minor, a curfew was established in the secured area between sunset Wednesday and sunrise Thursday. During that period 15-30 enforcement officers, along with Oklahoma National Guard members kept watch. Those on the street were directed back to their homes. At Stillwater Medical Center, where emergency backup power had to be employed, 12 people were treated for injuries. One of the worst injuries was a 75 year old man with a broken hip.

Path of the tornado was one mile wide and five miles long. Ron Hill, Stillwater Civil Defense Director, doubted the tornado was ever on the ground. At that time, Hill said, "I do not think, in talking with some other people that flew over the area this morning, that it was ever completely on the ground but at treetop, rooftop height. And it did a hop, skip and jump across town". Hill said the National Weather Service first began tracking the tornado near Marshal and Mulhall in neighboring Logan County. While not in the direct path of the tornado, winds at Stillwater Municipal Airport were clocked at 100 mph, where a plane flipped over.

With final numbers not given here, the damage assessment by the Red Cross came to 52 homes destroyed with 85 having major damage. 393 had minor damage. Of mobile homes, eight were destroyed, three had major damage and 13 had minor damage. Five apartment complexes along N. Perkins Rd were hit. 46 individual units were destroyed, while 82 sustained major damage and 140 sustained minor damage. At Applecreek, some apartments looked like they had been scooped out of the buildings. At Monticello Apartments, cars were crushed by debris and caked with insulation from roof and walls. All together, the Red Cross said 821 living units were affected in some way.

A total of 14 businesses were affected, two of which were destroyed. Three public schools had roofs damaged in the amount of around $700,000. One of them, the high school, had more than 30 broken windows. It was closed for a week. Roof damage at Skyline Elementary was so severe students could not go back to finish the remainder of the school term. High winds outside the tornado's path did some damage to the industrial plants on N. Perkins Rd.

On the OSU campus, 40 units at a family housing complex had extensive roof damage. Solar panels were damaged at Nobel Research Center. Heaviest damage in the amount of $410,000 was done to the Colvin Center, a rec and physical education facility. With much of the roof torn off, rain water damaged wooden gym flooring there. The Colvin Center Annex also suffered with large holes poked through its roof. No one was injured on campus. OSU was no longer in spring session. Total damage amount at OSU was believed to be around $1,000,000. Entire damage estimates from the tornado ran up to as much as $20,000,000, compared to the $3,000,000 in damages from the Friday the 13th tornado in 1975 with no deaths.
| | |
| --- | --- |
| Video From That Night | Video From The Night After |
---
Residents Recall Impacts From the 1990 Tornado
» "I was a fairly new 911 dispatcher in May 1990 when the tornado ripped through Stillwater. I was dispatching alone, ordinary event back in those days, since we did not have enough people to staff more than one dispatcher on duty at a time. It was amazing how every thing lit up at once. Every phone line in there rang at once, every radio frequency started crackling at once, and continued non-stop for hours. Ralph McFadden came in as soon as he could to help me answer phone lines, and then, of course, other PD employees came in to assist as well. It was hours beyond my shift regular end before I went home to check on my own family and possessions." Linda

» "When the sirens sounded, I left and drove to my now husband's restaurant. Randy knew that I had been home. He ran across to get me just as it started. He was hit by a board and knocked out. We all lost everything. My wedding invitations were all addressed and ready to mail. We ended up using them even though they were splattered with mud." Teresa

» "My daughter and I rode out the tornado in the old married student housing where we lived. Our Chinese neighbors didn't know what was going on, and I had them all hide in the downstairs apartment bathtub. The little boy who died, Taylor, was my daughter's close friend in daycare. She was very upset seeing him on TV the next day. I remember the daycare bringing in counselors to help the little kids. My daughter didn't go to sleep alone for about a year after that. She was just 4 years old" Kim

» "I was trapped inside Skyline Elementary School during a Brownie/Girl Scouts bridging night. I remember the custodian running in telling us to take cover. I remember the noise, seeing my dad being pulled out by the wind only hanging on to the door handle, until being pulled back inside. I remember the roof being gone in parts and being able to see the sky from inside. I was 9 at the time." Billy Joe

» "I was in college and working at the Satellite Twin movie theater in Cowboy Mall. We lost power and started refunding tickets. I remember the glass on the front of the strip mall was bowing in, almost like it was made of thin plastic. We called out to the parent theater on Perkins Rd. and heard they had roof damage and that a woman had gone into labor. I remember the sky being a light green color and once the sun went down, Stillwater was the darkest I had ever seen, since power was out most everywhere." Steve

» "I was in the Satellite Twin then. Looking at the map, it skipped right over us and landed on the old Braum's. Then it clipped the roof off my apartment. Lucky for me, it was moving day and most my stuff was out." Scott

» "I was at Oklahoma State University's music auditorium rehearsing before Stillwater High School's concert that night. My car was one of the only cars that did not have the windows knocked out that evening." Christina

» "My husband and I decided to leave our store on 6th street with our seven yr old son. The City of Stillwater turned off the sirens, so we thought the coast was clear. Once we were at Perkins Rd. past McElroy the power lines started coming down. We changed directions to take McElroy to Boomer. Had to slow down to let a dumpster go by on Boomer. No power once we were home so we brought out the grill, fed the ONG guys and anyone that came by. No power, so we might as well cook the food in our refrigerator before it spoiled!" Patti

» "I was growing more and more concerned from monitoring reports on TV from weathermen. It really appeared a tornado was headed straight for Stillwater. All of a sudden the electricity went off. I took it as the last warning sign that this was it and to take cover. So I pulled the mattress off my bed and hid under it in the hallway. Within 30 seconds, I heard the dreadful loud roar come over typically associated with tornadoes. I went out and was happily relieved to see very little damage was done to the house. However, the 50 ft. cottonwood tree was uprooted and sprawled across much of the backyard." DB

» "It blew the sign to Western Sizzlin onto my dad's truck while we were trying to get in the restaurant. They had the door locked and we were hungry. It was pretty funny really...we were knocking on the door, and the waitress was shaking her head no and called us crazy." John