From USGS: Odds of Major Quake In Oklahoma Growing, Here's Why
Tulsa Seismogram
Earthquakes in the past 7 days of magnitude 2.0 or greater within 200 mi of Oklahoma City, OK.
Update time = Tue, Sep-30-2014 4:34pm CDT
Epicenter Near
Magnitude
Distance to Epicenter
Local Standard Time
Link
7 mi SSE of Perry, Oklahoma
2.6
51 mi

1412105662

Tue, Sep-30-2014 2:34pm
map
4 mi SE of Harper, Kansas
2.9
124 mi

1412102992

Tue, Sep-30-2014 1:49pm
map
7 mi N of Yale, Oklahoma
2.6
69 mi

1412094542

Tue, Sep-30-2014 11:29am
map
5 mi ESE of Harper, Kansas
3.1
124 mi

1412090671

Tue, Sep-30-2014 10:24am
map
5 mi SE of Harper, Kansas
3.8
123 mi

1412088904

Tue, Sep-30-2014 9:55am
map
6 mi NNE of Perry, Oklahoma
2.6
63 mi

1412088196

Tue, Sep-30-2014 9:43am
map
6 mi ESE of Harper, Kansas
3.3
123 mi

1412080226

Tue, Sep-30-2014 7:30am
map
15 mi WSW of Perry, Oklahoma
3.5
50 mi

1412057161

Tue, Sep-30-2014 1:06am
map
16 mi WSW of Perry, Oklahoma
3.3
51 mi

1412056726

Tue, Sep-30-2014 12:58am
map
16 mi WSW of Perry, Oklahoma
2.7
51 mi

1412047086

Mon, Sep-29-2014 10:18pm
map

15 mi WSW of Perry, Oklahoma

4.1

52 mi

1412046086

Mon, Sep-29-2014 10:01pm
map
1 mi NE of Medford, Oklahoma
2.6
93 mi

1412025000

Mon, Sep-29-2014 4:10pm
map
2 mi ENE of Crescent, Oklahoma
2.5
34 mi

1412021116

Mon, Sep-29-2014 3:05pm
map
9 mi N of Langston, Oklahoma
3.1
45 mi

1412001819

Mon, Sep-29-2014 9:43am
map
9 mi NE of Perry, Oklahoma
2.6
66 mi

1411900837

Sun, Sep-28-2014 5:40am
map
9 mi NE of Perry, Oklahoma
3.2
65 mi

1411871163

Sat, Sep-27-2014 9:26pm
map
2 mi S of Guthrie, Oklahoma
3.3
25 mi

1411820960

Sat, Sep-27-2014 7:29am
map
2 mi SSW of Guthrie, Oklahoma
3.6
25 mi

1411820089

Sat, Sep-27-2014 7:14am
map
15 mi NE of Perry, Oklahoma
2.8
70 mi

1411782116

Fri, Sep-26-2014 8:41pm
map
9 mi WSW of Pawnee, Oklahoma
3.2
65 mi

1411738058

Fri, Sep-26-2014 8:27am
map
11 mi SSE of Wetumka, Oklahoma
2.8
84 mi

1411684998

Thu, Sep-25-2014 5:43pm
map
11 mi W of Medford, Oklahoma
2.6
94 mi

1411675956

Thu, Sep-25-2014 3:12pm
map
2 mi SSE of Anthony, Kansas
2.8
116 mi

1411627584

Thu, Sep-25-2014 1:46am
map
16 mi NNW of Healdton, Oklahoma
2.5
73 mi

1411565743

Wed, Sep-24-2014 8:35am
map
4 mi NNE of Pawnee, Oklahoma
3.7
76 mi

1411537773

Wed, Sep-24-2014 12:49am
map
25 earthquakes found. Click on location or map links for more details from the USGS
---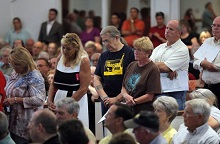 6/26 Town Hall Earthquake Meeting Leaves Attendees Unsatisfied - Details Here and Here

Audio To The Earthquake Town Hall Presentation Here

Audio To The Question and Answer Session Can Be Heard Here
---

Think you experienced an earthquake not listed above? If so, try referring to the
Oklahoma Geological Survey.
Unlike above, it lists Oklahoma quakes of under 2.0 in magnitude.
---

OGS Position Statement on Oklahoma Earthquake Activity, 2-17-2014

Oklahoma Seismograms

Fault Lines In Central And Northern Oklahoma

Did you feel an Earthquake? Report it
here

Video of Oklahoma Earthquakes Since 2004
here
---
---

After February Quakes Jolt Stillwater, OSU Joins Study - KFOR Video - Stillwater Paper Calls For State Quake Task Force Here

Bottles Shatter at Edmond Wine Shop From 12/7 Quake

Geophysicists Look into Cause of Earthquakes in Central Oklahoma
- More
here

Why Are Oklahoma Earthquakes So Loud? A Seismologist Explains
Here

USGS: Central Oklahoma Earthquakes Here to Stay
---
Oklahoma Injection Wells

Disposal Well Shutdown After Swarm of Earthquakes in Southern Oklahoma

Wastewater, not fracking thought cause of Oklahoma earthquakes.
More info here.

Fault Line
Runs Through Oklahoma City.
---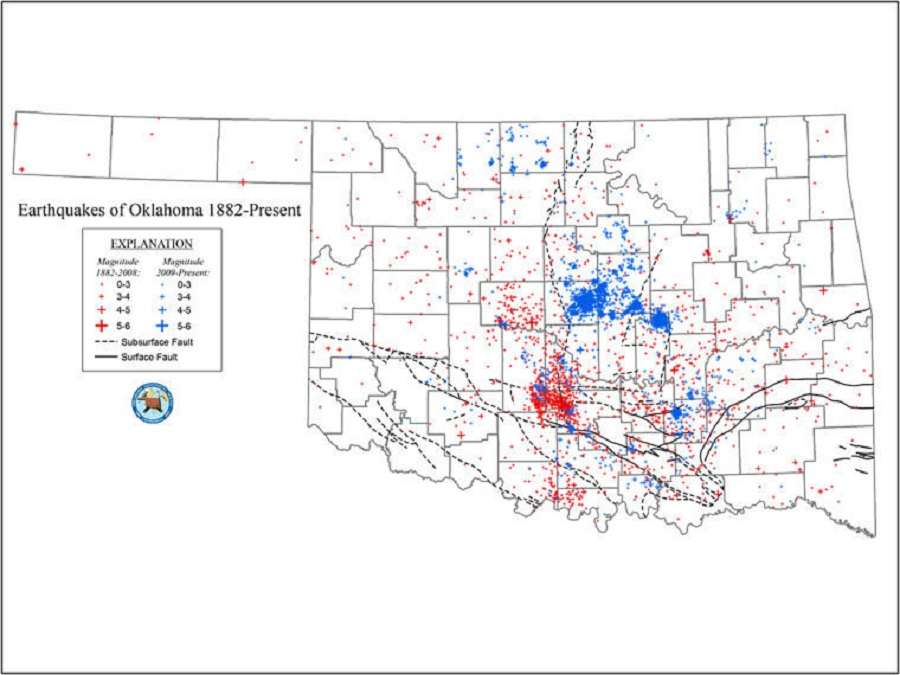 ---
News of the 2/27/2013 Earthquakes Here
---

Intensity Map for 5.6 Earthquake
Here

Mad Dash Out the Door in This Video From Edmond

Cracks Found in Road Near Epicenter

Birds, Bugs Take Massive Flight to the Skies After Quake as Seen on Radar

Experts Feel Quakes Too Strong to be Due to Fracking in Oklahoma
But Another Expert Differs

USGS Summarizes Oklahoma's Recent Earthquakes
Sports Reporter Gets Wide Eyed Surprise In Pickens Stadium!
Boone Pickens Stadium Inspected After Earthquake Here.
---
Intensity Map For 5.6 Quake of 11/5/2011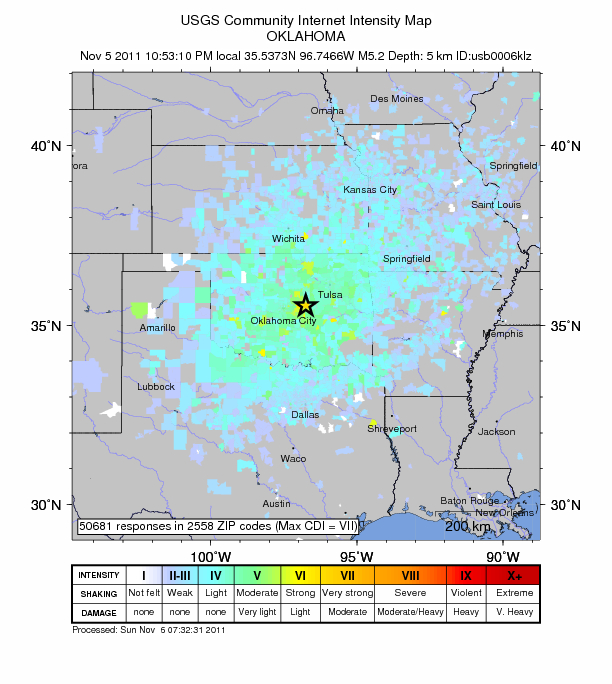 Birds And Bugs Take Flight After Quake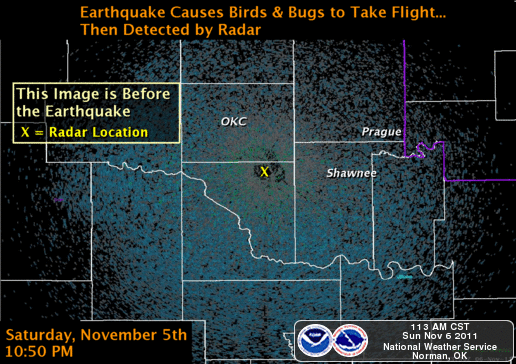 Wait 5, or so, seconds for image to change.
Nov. 5th, 2011 4.7 After Shock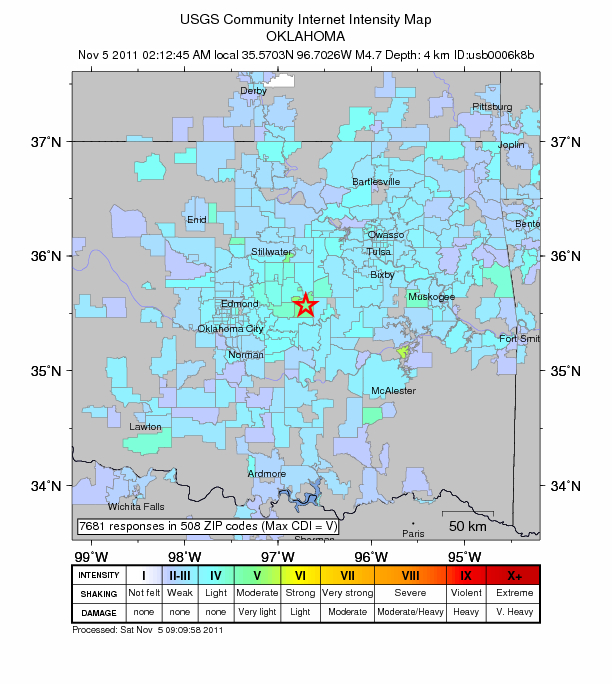 ---
Graph Shown Below of Sparks Quake, Feb. 27, 2010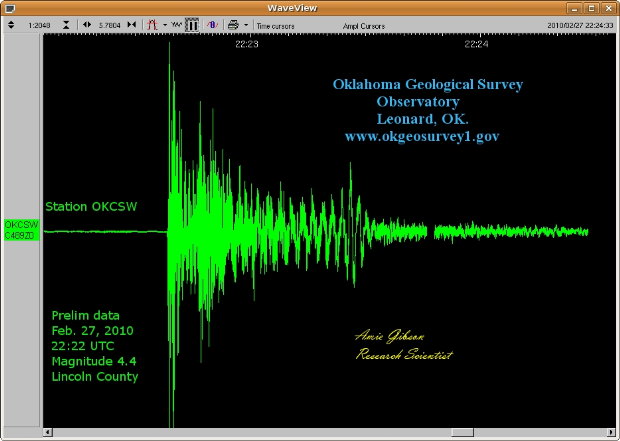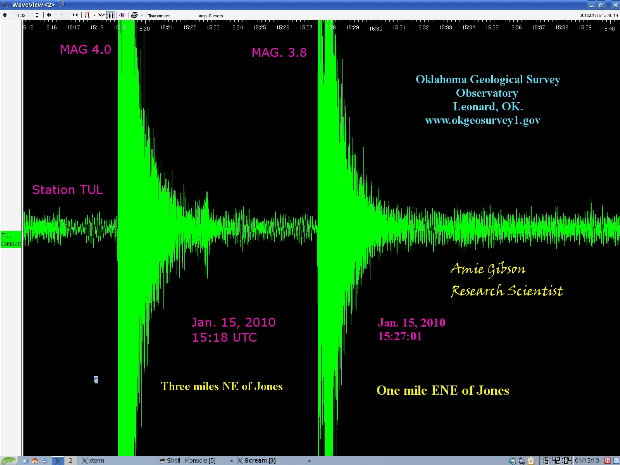 Map and data courtesy of United States Geological Survey.
Script courtesy of Saratoga-weather.org
---
Current weather in Stillwater: mostly-cloudy


Click banner above for home page.